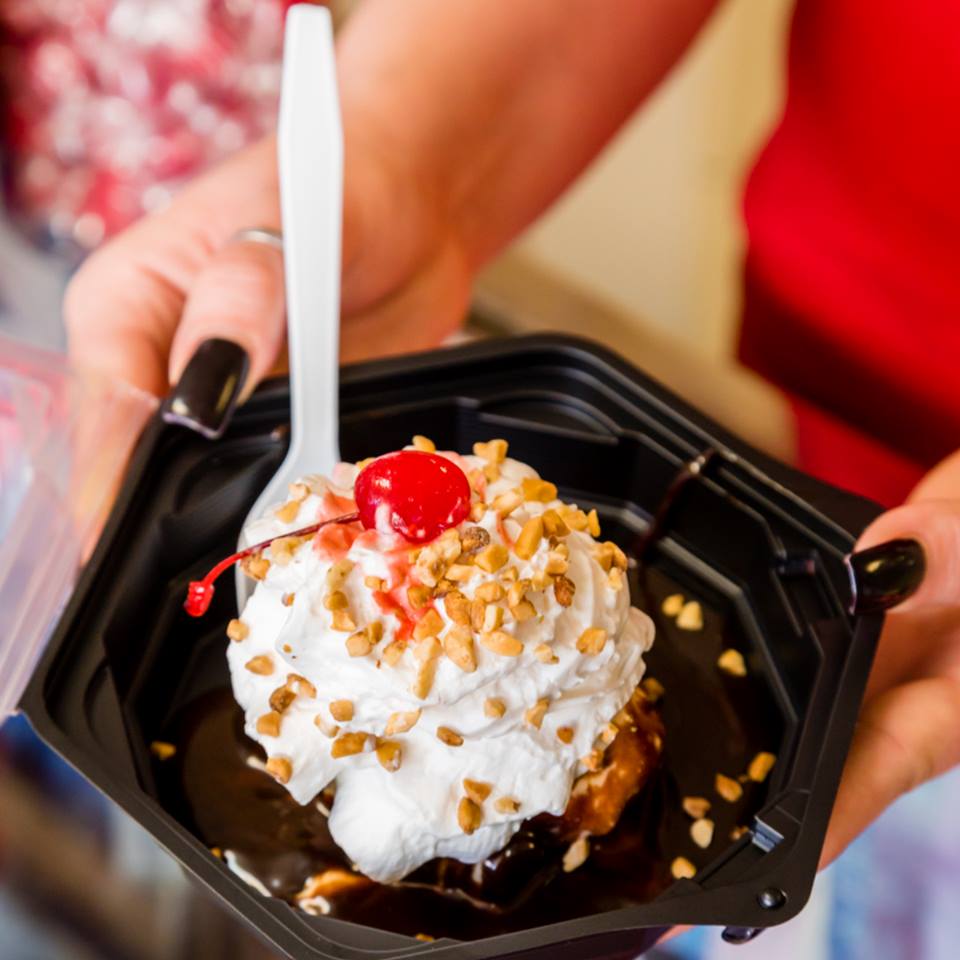 Hungry? You've Come to the Right Place
At Clown Cones & Confections, you're sure to find something you like. From amazing sundaes and ice cream cones, to a savory pizza or hot dog, we've got a little something for everyone. 
CONES
One Dip, Two Dip or Three Dips
We have sugar cones, regular cones, double header cones & homemade waffle cones
FLOATS
Small, Medium & Large
Ice cream & Pop
SLUSHIES
Small, Medium & Large
Flavors: Cherry, red raspberry, blue raspberry, grape, orange, banana, watermelon, lemon-lime, mango, lemon, suicide, pina colada, peach, sour green apple, pineapple, strawberry, black cherry, strawberry kiwi, cotton candy and pomegranate
BLENDERS
Small, Medium & Large
Pop & ice cream mixed
MILKSHAKES AND MALTS
Small, Medium & Large
Made with real ice cream and whole milk
FREEZES
Small, Medium & Large
Soda water & sherbet mixed
REGULAR
One dip, two dips, three dips
Whipped topping, syrup & cherry included
Syrup flavors: Chocolate, caramel, peanut butter, marshmallow, hot fudge, butterscotch, pineapple & strawberry
SPECIALTY
One dip, two dips, three dips
Whipped topping and cherry included
Ice cream is topped with:
Tin roof– hot fudge and spanish peanuts
Brownie surprise– hot brownie with hot fudge
Cashew Royal– caramel, cashew pieces
Turtle– caramel, hot fudge, pecan pieces
Hot muffin– hot muffin with topping, whipped topping, nuts, cherry (one dip only)
Butter pecan– butterscotch, pecan pieces
*Two or three dip size, whipped topping, nuts and cherry included
REGULAR TWO DIP
Vanilla and chocolate ice cream with chocolate and pineapple topping
REGULAR THREE DIP
Vanilla, chocolate and strawberry ice cream with chocolate, pineapple and strawberry toppings
CUSTOM MADE
Your choice of ice cream and toppings
Hand packed, pints and quarts- any flavor you want!
PIZZA
Pepporoni, cheese or fiestada
HAM AND CHEESE
On a bun
BREADED CHICKEN PATTIES
On a bun
QUARTER POUND BEEF HAMBURGER
ALL BEEF HOTDOGS
With add ons of chili, cheese, coleslaw, bacon, pepporoni, onions, mustard, ketchup and/or relish
Clown Cones & Confections
3431-F Cleveland Avenue
Columbus, OH, 43224
Mon - Sat: 11am - 8pm
Sun: 12pm - 7pm